For the last two months I have been dealing with what appears to be acne. I've never had acne, however, I get the occasional hormonal breakout but nothing that a quick application of my go-to pimple reducing solution and mask couldn't fix.  This breakout has not been so easy to deal with and I am left experimenting to find a solution. Treating acne is different for everyone, so, something that works for your BFF might not work for you and vice versa.  It is also interesting that products with the same active anti-acne ingredient might work differently on your skin. In short, you have to play around with various products and ingredients to find the thing that is right to treat for your acne.  This is no easy task, with this in mind, I'd like to introduce you to Dr Lin Skincare and share some tips from the brand for treating acne using their products.
Dr. Lin Skincare features a 2-step Acne Clarifying system that uses a  proprietary blend of benzoyl peroxide, salicylic acid, and natural active botanicals to provide continuously clear, beautiful skin.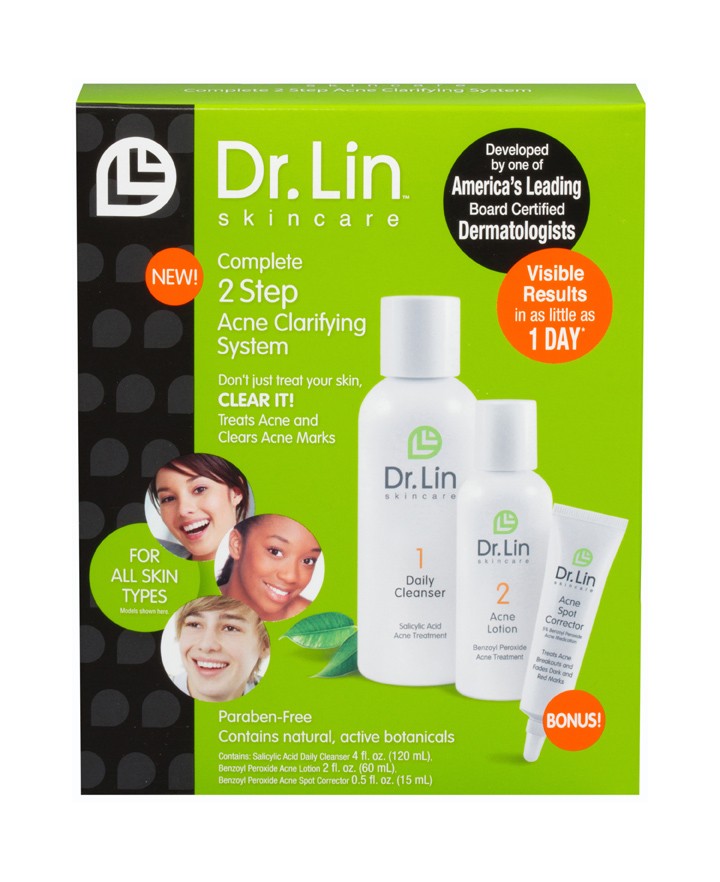 Start your routine with Dr. Lin Skincare 2-Step Acne Clarifying System, complete with Daily Cleanser, Acne Lotion and bonus Acne Spot Corrector to treat and prevent breakouts. Contains top acne fighting ingredients like 2% Salicylic Acid and Benzoyl Peroxide. Step 1 includes washing with the Daily Cleanser, formulated with 2% Salicylic Acid to deep clean and purify clogged pores. Follow with the Step 2 Acne Lotion, packed with benzoyl peroxide to kill acne-causing bacteria. Shrink unexpected breakouts fast with the bonus Acne Spot Corrector. The entire system contains Arbutin, found in the bearberry tree plant to reduce inflammation and prevent and fade marks.
To take your acne fighting up a notch, show your skin some extra TLC with the Acne Cleansing Pads and Acne Cleansing Wipes for a gentle exfoliation that rids pores of blockage and helps remove makeup.  Best for use after cleansing, 2% Salicylic Acid penetrates deep, ridding the skin of impurities.   Skin will feel ultra-clean and the convenient packaging makes them perfect to take on-the-go!
Dr. Lin Skincare Daily Hydrating Gel moisturizes and heals skin with a soothing mix of Hyaluronic Acid and Aloe Vera for beautiful finish. The gel-based product can be used as a quick 30 second treatment or left on skin overnight as a mask for optimal results.
Products range from $8.99 – $21.99 and are available on www.drlinskincare.com and Walmart.
What are some of the most effective acne products you've ever used?
—